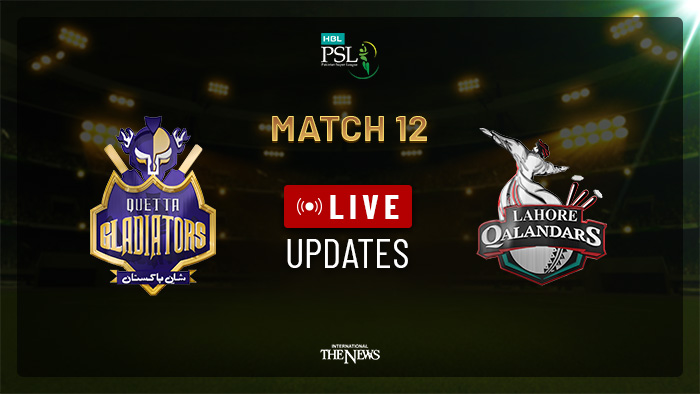 Quetta Gladiators 115/5 in 15 overs (Target 144)WSandeep Lamichhane to  Sarfaraz, 1 run

Sandeep Lamichhane to Mohammad Nawaz, 1 run
End of over 15: Quetta Gladiators 113/5 (LQ Target: 144)

Haris Rauf to Sarfaraz, no runs
Haris Rauf to Sarfaraz, 2 runs
Haris Rauf to Sarfaraz, no runs
Haris Rauf to Sarfaraz, 2 runs

Haris Rauf to Mohammad Nawaz, 1 run

Haris Rauf to Mohammad Nawaz, no run
End of over 14: Quetta Gladiators 108/5 (LQ Target: 144)

Rahat Ali to Mohammad Nawaz, 1 run

Rahat Ali to Sarfaraz, 1 run

Rahat Ali to Mohammad Nawaz, 1 run
Rahat Ali to Mohammad Nawaz, SIX
Rahat Ali to Sarfaraz, 1 run
Rahat Ali to Sarfaraz, 2 runs
End of over 13: Quetta Gladiators 96/5 (LQ Target: 144)

Yasir Shah to Mohammad Nawaz, no runs

Yasir Shah to Mohammad Nawaz, 2 runs

Yasir Shah to Sarfaraz, 1 run

Yasir Shah to Mohammad Nawaz, 1 run

Yasir Shah to Sarfaraz, 1 run

Yasir Shah to Mohammad Nawaz, 1 run
End of over 12: Quetta Gladiators 90/5 (LQ Target: 144)

David Wiese to Sarfaraz, FOUR

David Wiese to Mohammad Nawaz, 1 run

David Wiese to Sarfaraz, 1 run

David Wiese to Mohammad Nawaz, 1 run

David Wiese to Sarfaraz, 1 run

David Wiese to Dwyane Smith, OUT
End of over 11: Quetta Gladiators 81/4 (LQ Target: 144)
Sandeep Lamichhane to Sarfaraz, 1 run

Sandeep Lamichhane to Dwyane Smith, 1 run

Sandeep Lamichhane to Dwayne Smith no run

Sandeep Lamichhane to Sarfaraz, 1 run

Sandeep Lamichhane to Dwyane Smith, 1 run

Sandeep Lamichhane to Ahsan Ali, OUT
End of over 11: Quetta Gladiators 77/3 (LQ Target: 144)

Rahat Ali to Ahsan Ali, 1 run

Rahat Ali to Sarfaraz, 1 run
Rahat Ali to Ahsan Ali, 1 run

Rahat Ali to Ahsan Ali, 2 runs

Rahat Ali to Ahsan Ali, 2 run

Rahat Ali to Ahsan Ali, no runs
End of over 10: Quetta Gladiators 70/3 (LQ Target: 144)

Haris Rauf to Sarfaraz, 1 runs

Haris Rauf to Ahsan Ali, 1 wide

Haris Rauf to Sarfaraz, 1 run

Haris Rauf to Ahsan Ali, 1 run

Haris Rauf to Ahsan Ali, no runs
Haris Rauf to Sarfaraz, 1 run

Haris Rauf to Sarfaraz, 2 runs
End of over 9: Quetta Gladiators 63/3 (LQ Target: 144)

Sandeep Lamichhane to Sarfaraz, 1 run

Sandeep Lamichhane to Sarfaraz, 2 run

Sandeep Lamichhane to Sarfaraz, no runs

Sandeep Lamichhane to Ahsan Ali, 1 run

Sandeep Lamichhane to Ahsan Ali, SIX

Sandeep Lamichhane to Ahsan Ali, no runs
End of over 8: Quetta Gladiators 53/3 (LQ Target: 144)
Haris Rauf to Sarfaraz, no runs
Haris Rauf to Umar Akmal, OUT
Haris Rauf to Umar Akmal, no runs

Haris Rauf to Ahsan Ali, 1 run

Haris Rauf to Umar Akmal, 1 run

Haris Rauf to Umar Akmal, FOUR
End of over 7: Quetta Gladiators 47/2 (LQ Target: 144)

Yasir Shah to Ahsan Ali, FOUR

Yasir Shah to Ahsan Ali, no runs
Yasir Shah to Umar Akmal, 1 run
Yasir Shah to Umar Akmal, no runs

Yasir Shah to Ahsan Ali, 1 run

Yasir Shah to Ahsan Ali, SIX
End of over 6: Quetta Gladiators 35/2 (LQ Target: 144)

Sandeep Lamichhane to Umar Akmal, 2 runs

Sandeep Lamichhane to Umar Akmal, no runs

Sandeep Lamichhane to Umar Akmal, no runs

Sandeep Lamichhane to Umar Akmal, no runs

Sandeep Lamichhane to Umar Akmal, no runs

Sandeep Lamichhane to Ahsan Ali, 1 run
End of over 5: Quetta Gladiators 32/2 (LQ Target: 144)

Yasir Shah to Ahsan Ali, 1 run

Yasir Shah to Ahsan Ali, FOUR

Yasir Shah to Ahsan Ali, no runs
Yasir Shah to Umar Akmal, 1 run
Yasir Shah to Umar Akmal, no runs
Yasir Shah to Railee Rossouw, OUT
End of over 4: Quetta Gladiators 26/1 (LQ Target: 144)

David Wiese to Rilee Rossouw, 1 run

David Wiese to Rilee Rossouw, no runs

David Wiese to Ahsan Ali, 1 run

David Wiese to Rilee Rossouw, 1 run

David Wiese to Rilee Rossouw, no runs

David Wiese to Ahsan Ali, 1 run
End of over 3: Quetta Gladiators 22/1 (LQ Target: 144)

Rahat Ali to Ahsan Ali, 1 runs

Rahat Ali to Ahsan Ali, 1 wide

Rahat Ali to Ahsan Ali, no runs

Rahat Ali to Ahsan Ali, no runs

Rahat Ali to Rilee Rossouw, 1 run

Rahat Ali to Rilee Rossouw, FOUR
Rahat Ali to Rilee Rossouw, 1 run
End of over 2: Quetta Gladiators 14/1 (LQ Target: 144)

Yasir to Rilee Rossouw, no runs

Yasir to Rilee Rossouw, no runs
Yasir to Rilee Rossouw, FOUR
Yasir to Ahsan Ali, 1 run
Yasir to Ahsan Ali, 2 run
Yasir to Rilee Rossouw, 1 runs
End of over 1: Quetta Gladiators 6/1 (LQ Target: 144)
Rahat Ali to Rilee Rossouw, 1 run

Rahat Ali to Rilee Rossouw, FOUR

Rahat Ali to Rilee Rossouw, no runs

Rahat Ali to Shane Watson, OUT

Rahat Ali to Shane Watson, 1 wide
Rahat Ali to Shane Watson, no runs
Rahat Ali to Shane Watson, no runs
---
End of Lahore Qalander's Innings: 143/7
Mudassar to Lamichhane, 2 run
Mudassar to Lamichhane, 1 run

Mudassar to Lamichhane, no runs

Mudassar to AB de Villiers, 1 run
Mudassar to Lamichhane, 1 run

Mudassar to Lamichhane, 1 wide

Mudassar to Lamichhane, no runs
End of over 19: Lahore Qalanders: 136/7

Sohail Tanvir to AB de Villiers, no run
Sohail Tanvir to Yasir Shah, OUT
Sohail Tanvir to AB de Villiers, 1 run

Sohail Tanvir to Yasir Shah, 1 leg bye
Sohail Tanvir to AB de Villiers, 1 run
Sohail Tanvir to AB de Villiers, 2 run
End of over 18: Lahore Qalanders: 131/6

Mudassar to AB de Villiers, 1 run

Mudassar to AB de Villiers, no runs
Mudassar to Yasir Shah, 1 run
Mudassar to Yasir Shah, no runs
Mudassar to Gauhar Ali, OUT
Mudassar to AB de Villiers, 1 run
End of over 17: Lahore Qalanders: 128/5

Anwar Ali to Gauhar Ali, 2 runs

Anwar Ali to AB de Villiers, 1 run

Anwar Ali to Gauhar Ali, 1 run

Anwar Ali to AB de Villiers, 1 run

Anwar Ali to Gauhar Ali, 1 run
Anwar Ali to AB de Villiers, 1 run
End of over 16: Lahore Qalanders: 121/5

Sohail Tanvir to AB de Villiers, 1 run

Sohail Tanvir to Gauhar Ali, 1 run

Sohail Tanvir to AB de Villiers, 1 run
Sohail Tanvir to David Wiese, OUT

Sohail Tanvir to AB de Villiers, 1 run

Sohail Tanvir to AB de Villiers, 2 runs
End of over 15: Lahore Qalanders: 115/4

Fawad to David Wiese, 2 run

Fawad to David Wiese, 2 run
Fawad to AB de Villiers, 1 run
Fawad to David Wiese, 1 run

Fawad to David Wiese, SIX

Fawad to David Wiese, 2 runs
End of over 14: Lahore Qalanders: 101/4

Anwar Ali to David Wiese, 1 run

Anwar Ali to AB de Villiers, 1 run
Anwar Ali to David Wiese, 1 run
Anwar Ali to AB de Villiers, 1 run
Anwar Ali to AB de Villiers, FOUR
Anwar Ali to David Wiese, 1 run
End of over 13: Lahore Qalanders: 92/4

Fawad to AB de Villiers, no runs

Fawad to David Wiese, 1 run

Fawad to AB de Villiers, 1 run

Fawad to AB de Villiers, 2 runs
Fawad to David Wiese, 1 run
Fawad to AB de Villiers, 1 run
End of over 12: Lahore Qalanders: 86/4

Mohammad Nawaz to AB de Villiers, 1 run

Mohammad Nawaz to David Wiese, 1 run

Mohammad Nawaz to David Wiese, no runs

Mohammad Nawaz to AB de Villiers, 1 run

Mohammad Nawaz to AB de Villiers, 2 runs
Mohammad Nawaz to David Wiese, 1 run
End of over 11: Lahore Qalanders: 80/4

Anwar Ali to David Wiese, 1 run
Anwar Ali to David Wiese, no runs

Anwar Ali to AB de Villiers, 1 leg bye
Anwar Ali to Corey Anderson, OUT

Anwar Ali to AB de Villiers, 1 run
Anwar Ali to Corey Anderson, 1 run
End of over 10: Lahore Qalanders: 76/3

Mohammad Nawaz to AB de Villiers, 2 runs

Mohammad Nawaz to Corey Anderson, 1 run

Mohammad Nawaz to AB de Villiers, 1 run

Mohammad Nawaz to AB de Villiers, no runs

Mohammad Nawaz to Corey Anderson, 1 run

Mohammad Nawaz to Corey Anderson, SIX
End of over 9: Lahore Qalanders: 65/3

Fawad to Corey Anderson, 1 run

Fawad to Corey Anderson, 2 run

Fawad to AB de Villiers, 1 run

Fawad to Corey Anderson, 1 run

Fawad to AB de Villiers, 1 run

Fawad to AB de Villiers, 2 runs
End of over 8: Lahore Qalanders: 57/3

Mohammad Nawaz to Corey Anderson, no runs

Mohammad Nawaz to AB de Villiers, 1 run

Mohammad Nawaz to AB de Villiers, 2 runs

Mohammad Nawaz to Corey Anderson, 1 run

Mohammad Nawaz to AB de Villiers, 1 run

Mohammad Nawaz to Corey Anderson, 1 run
End of over 7: Lahore Qalanders: 51/3

Fawad Ahmed to Corey Anderson, 1 run

Fawad Ahmed to Corey Anderson, no runs

Fawad Ahmed to Corey Anderson, no runs

Fawad Ahmed to Corey Anderson, no runs

Fawad Ahmed to AB de Villiers, 1 run

Fawad Ahmed to Corey Anderson, 1 run
End of over 6: Lahore Qalanders: 48/3

Mudassar to Corey Anderson, 1 run

Mudassar to AB de Villiers, 1 run

Mudassar to AB de Villiers, FOUR

Mudassar to Corey Anderson, 1 run
Mudassar to Sohail Akhtar, OUT

Mudassar to AB de Villiers, 1 wide
Mudassar to Salman Butt, OUT
End of over 5: Lahore Qalanders: 40/1

Anwar Ali to Salman Butt, 1 run

Anwar Ali to Sohail Akhtar, 1 run

Anwar Ali to Sohail Akhtar, SIX

Anwar Ali to Sohail Akhtar, no runs

Anwar Ali to Salman Butt, 1 run

Anwar Ali to Salman Butt, 2 runs

Anwar Ali to Salman Butt, no runs
End of over 4: Lahore Qalanders: 29/1

Mudassar to Salman Butt, 1 run

Mudassar to Salman Butt, 1 wide

Mudassar to Salman Butt, 2 runs

Mudassar to Salman Butt, no runs

Mudassar to Sohail Akhtar, 1 run

Mudassar to Sohail Akhtar, no runs

Mudassar to Sohail Akhtar, no runs
End of over 3: Lahore Qalanders: 24/1

Sohail Tanvir to Sohail Akhtar, no runs

Sohail Tanvir to Sohail Akhtar, no runs

Sohail Tanvir to Sohail Akhtar, no runs

Sohail Tanvir to Sohail Akhtar, SIX

Sohail Tanvir to Sohail Akhtar, 2 run

Sohail Tanvir to Sohail Akhtar, no runs
End of over 2: Lahore Qalanders: 15/1

Mohammad Nawaz to Fakhar Zaman OUT

Mohammad Nawaz to Sohail Akhtar, 1 run

Mohammad Nawaz to Sohail Akhtar, FOUR

Mohammad Nawaz to Sohail Akhtar, SIX

Mohammad Nawaz to Sohail Akhtar, no run

Mohammad Nawaz to Fakhar Zaman, 1 run
End of over 1: Lahore Qalanders: 3/0
Sohail Tanvir to Sohail Akhtar, no runs

Sohail Tanvir to Fakhar Zaman, 1 run
Sohail Tanvir to Sohail Akhtar, 1 run

Sohail Tanvir to Sohail Akhtar, no runs
Sohail Tanvir to Sohail Akhtar, no runs
Sohail Tanvir to Fakhar Zaman, 1 run
Quetta Gladiators won the toss and decided to bowl first against Lahore Qalanders in the 12th match of Pakistan Super League's fourth edition in Sharjah on Saturday.
Lahore Qalandars will take on Quetta Gladiators in the 12th T20 match of the fourth edition of the Pakistan Super League (PSL) today.
The first of the two contests scheduled for Saturday will start at 5-00 pm at the Sharjah Cricket Stadium.
It will be fifth match for Lahore Qalandars while the Gladiators will be appearing for the fourth time in the event.
Lahore won two of their four matches securing four points while Quetta won all their three matches and are leading all the teams with six points on the table.
Quetta Gladiators won their three matches against Peshawar Zalmi by 6 wickets, Islamabad United by seven wickets and Multan Sultans by eight wickets.
Lahore Qalandars after losing the inaugural match of the event to Islamabad United by five wickets came back with a 22-run victory over Karachi Kings.
Later, they were beaten by seven wickets against Peshawar Zalmi but last night chased a huge target of 201 against Multan Sultans.
Squads
Lahore Qalandars: Fakhar Zaman, Sohail Akhtar, AB de Villiars, Ap Devcich, Bradan Taylor, Craig Brathwaite, Yasir Shah, Haris Rauf, Shaheen Shah Afridi, Rahat Ali, Agha Salman, GCViljoen, Hassan Khan
Quetta Gladiators: Ahmed Shehzad, Shane Watson, RR Rossouw, Umar Akmal, Sarfraz Ahmed, Dwayne Smith, Mohammad Nawaz, Sohail Tanvir, Mohammad Irfan, Ghulam Mudassar, Fawad Ahmed, Ahsan Ali